The Collector's Edition incorporates all the First Edition base game components as well as all the components from the First Edition expansion that relate to the main game. In addition it includes the Gollum/SmÚagol figure that was previously only available through special promotions, and a new design for the Nazgűl figure. All the 246 figures included are hand painted and all the components have been enhanced.

The rulebook has been re-written to take into account the rules questions which have appeared over the years. It is hard-bound in leather, with many full page illustrations of John Howe's excellent art, and with its title hot-stamped in silver.

The gameboard has new art, completely re-done by John Howe in order to enhance the gameplay. The gameboard is further enhanced by its larger size (two sections join together to make it 88 x 128 cm).

The counters are larger than before and of the highest possible quality.

The cards have been produced in tarot-size, making them more beautiful and easier to read. All the card texts have (like the rule book) been revised and updated to take into account the rules questions which have appeared over the years.

The Action dice are moulded in black and white marble style, and two complete sets of similar combat dice are included.

An embroidered velvet bag is included to use for drawing Hunt tiles.

All of this is encased in a gorgeous wooden and resin box, and accompanied by a certificate of authenticity with the individual number of the product. Only 2000 copies of this great item will be produced.

For a nice overview of this superior item have a look at this YouTube clip:
(Make sure to watch in full HD)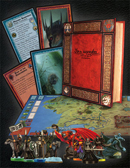 Please note that some of the images on this website are a preview of Art by John Howe from "War of the Ring"
a game published by Ares Games under license from Sophisticated Games and Middle-earth Enterprises.