Lords of Middle-earth
Limited Edition

Anounced on New Year's Eve 2012, this limited edition will be limited to only 1000 copies.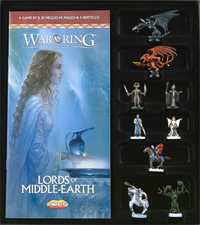 The Limited Edition of War of the Ring - Lords of Middle-earth includes, in addition to the painted miniatures, the Treebeard promotional mini-expansion (with painted miniature and Charatcer Card) and a numbered certificate of authenticity.

The cards, dice, rulebook and markers are the same as those included in the regular edition.

All the contents are packaged in an elegant, embossed, and hot-foil stamped box.



---




---

---


---
Please note that some of the images on this website are a preview of Art by John Howe from "War of the Ring"
a game published by Ares Games under license from Sophisticated Games and Middle-earth Enterprises.